Discovery District Builds on Partnerships
The USD Discovery District, a corporate and academic research park under development in Sioux Falls, is advancing its mission to foster innovation-focused economic development.
"The goal of the District is to strengthen the region's capacity to support, grow and attract innovation-based businesses resulting in new jobs, increased regional wealth and enhanced tax revenues," said Rich Naser, Jr., with the USD Discovery District.
The Discovery District, located adjacent to the USD Community College for Sioux Falls (formerly University Center), provides access to research facilities and infrastructure for research business development and fosters collaboration for the commercialization of new technologies.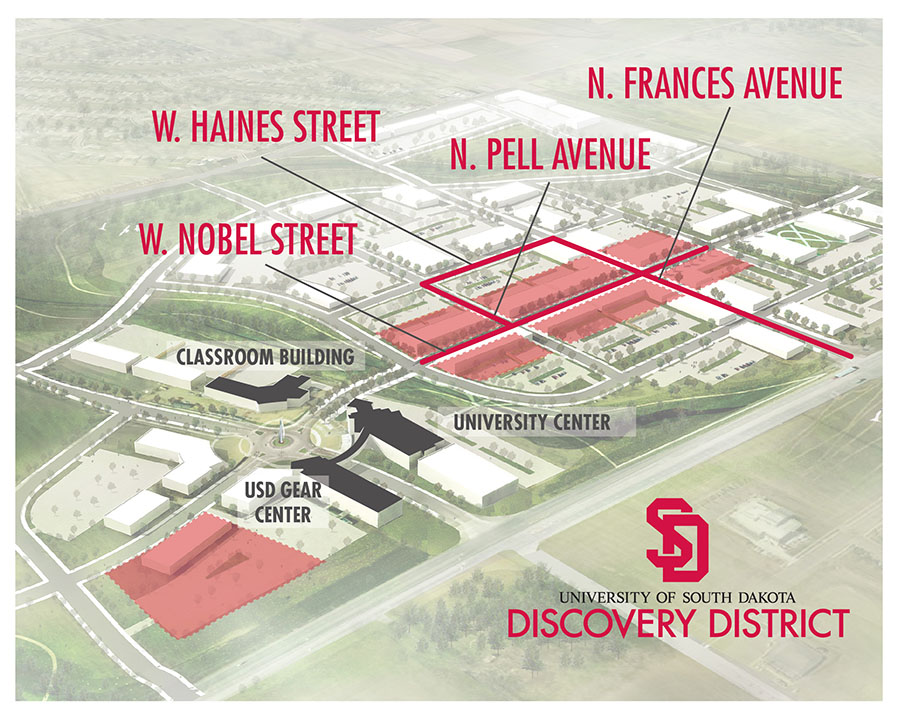 The organization is currently updating its strategic plan and identifying the key partnerships and activities necessary to maximize its impact. "The USD Discovery District was founded on partnerships with Forward Sioux Falls, the City of Sioux Falls, the South Dakota Board of Regents and the University of South Dakota, says Naser. "Our strategy is to extend and add to these partnerships to support innovation-driven companies."
One partnership example is the construction of Haines Street and Pell Avenue that will begin later this summer. The City of Sioux Falls is investing $1.5 million in streets, utilities, streetscapes and parking for new facilities that will enable the expansion of both SAb Biotherapeutics and Alumend as they commercialize their first biomedical products. Investments from Forward Sioux Falls and the U.S. Economic Development Administration are also part of the project funding.
The State of South Dakota, through the Governor's Office of Economic Development, also continues to be an important project partner for the District, helping facilitate the development of the first building. "These are expensive and complicated projects to finance," says Naser. "Governor Noem's administration has been incredibly supportive of this project and the state is playing a vital role in bringing the first building to completion."
In addition to infrastructure and project partnerships, the District has identified the Sioux Falls Development Foundation as a key marketing and recruitment partner. The strategic planning process identified a strong alignment between the organizations' targeted industries. The District will collaborate with the Foundation on these industry attraction activities and Bob Mundt, the Foundation's President & CEO, will join the District's Board of Directors in support of this partnership.
Finally, the District's strategic plan focuses on leveraging and growing USD's investments in Sioux Falls – the USD Sanford School of Medicine, the USD Biomedical Engineering program and the new Community College for Sioux Falls, which also includes programs from DSU and SDSU.
"USD is investing in programs and assets – both in Sioux Falls and Vermillion – that directly relate to the District's target industries as well as the workforce needs of this community," says Naser. "The role of the Discovery District is to identify additional opportunities to connect those resources with industry partners and grow the region's economy."