Master plan complete for newly named USD Discovery District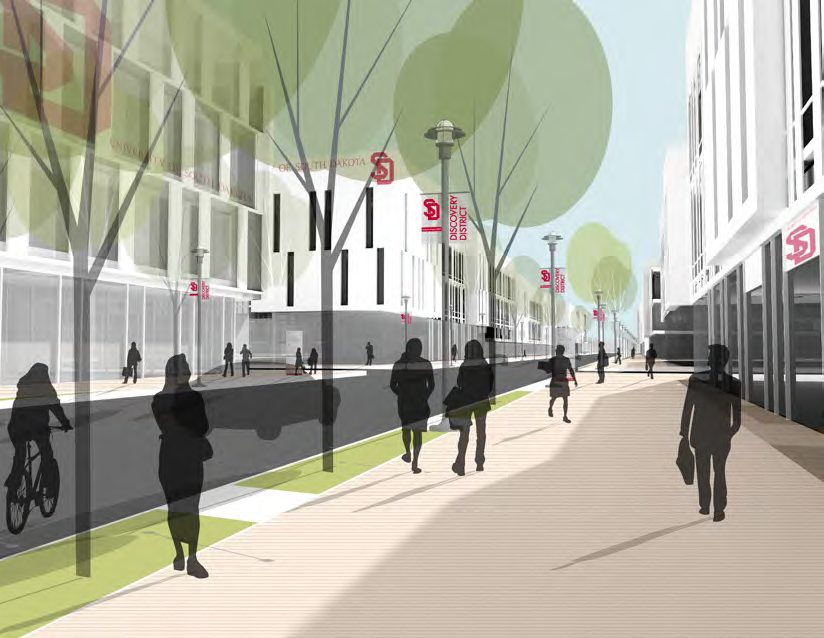 The master plan for the newly named University of South Dakota Discovery District is complete and the next steps for implementing that plan are underway.
The potential to rename became evident as the process advanced, says Rich Naser, president of the park corporation. "As the Architecture Incorporated and Perkins & Will planning team gathered local input and shared national and international research park trends, the concept evolved from a segregated suburban development park to an urban village more fully integrated into the surrounding community."
Naser says the name "Discovery District" captures the essence of the activities the project's stakeholders want to stimulate. "We want students, entrepreneurs and researchers all interacting to foster innovation and economic development."
The stakeholders involved in establishing the new Discovery District are the South Dakota Board of Regents, the University of South Dakota, the City of Sioux Falls, Forward Sioux Falls, the Sioux Falls Area Chamber of Commerce and the Sioux Falls Development Foundation.
According to David Green, Perkins & Will, establishing an integrated district is vital to its success. "The Discovery District needs to be a platform for bringing together a strong cross-section of the great research and commercial opportunities in South Dakota from around the United States and the world," says Green. "This is a model for global innovation and long-term investment in the future of the region."
With the master plan complete, the USD Discovery District has hired local firms Confluence and Sayre & Associates to design the first phase of road and utility infrastructure. Construction of the 2,039 linear ft. of street and utilities are planned to start in 2015.
At the same time, a feasibility study is being conducted for the first potential new building. A need for pharmaceutical and biologic production space was identified last during the master planning process. The feasibility study will evaluate the requirements of potential tenants; model a facility design and construction costs; and recommend strategies for developing and operating a facility.
"2015 will be an exciting year," says Naser. "The USD Discovery District is transitioning from a concept and plans to a physical development."
You can download the master plan here: Discovery District Master Plan 1-30-15